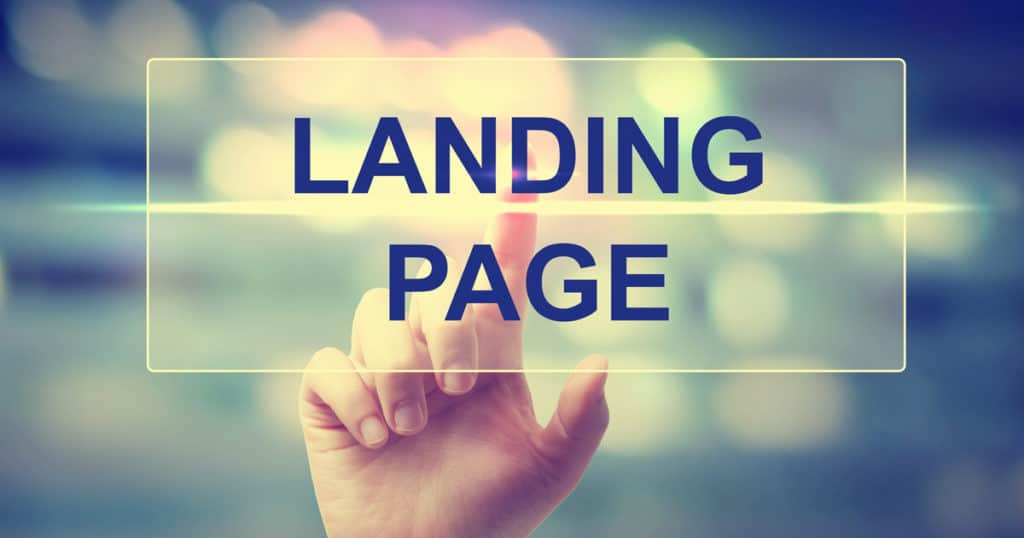 Here is shown the best lading pages creators
​
Revealed content
Landing pages are like the connective tissue of
affiliate marketing
. They're a bridge between traffic sources and offers that allow affiliates to utilize their creativity as a
tool to increase conversions.
If you're an affiliate, using a well-designed landing page can also give you an advantage over other affiliates running the same or similar campaigns in the same niche. You may be working in the same vertical, with the same payouts, and even the same traffic source, but your landing page can be completely your own.
If you're a proficient designer or coder, you may prefer creating your own landing pages from scratch using programs like Adobe Photoshop and InDesign. If you don't have much design experience, your best option is utilizing a landing page builder software that provides you with various tools and features to make great looking landing pages.
There are dozens of landing page builders available online, but we're going to tell you what we think are the five best options, why you should consider using them, and how much they'll cost you.
Unbounce
Cost:
Plans starting at $79/month
Unbounce is a well rounded, feature-rich builder that is mostly known for its efficient drag-and-drop editor. This editor will give you the ability to design landing pages that will make people think you have a degree in design, or at the very least a community college diploma.
You may find their mock-up recreation tool particularly useful if you like to map out your landing pages beforehand. This will allow you to import a rough mock-up of how you want your landing page to look and easily improve on that foundation to make it look more professional.
Dynamic text, which matches the text on your page to what someone is searching for on Google, and the ability to tweak the HTML of your landing page are a couple of other useful features that you may deem necessary in your page builder.
Why choose it over other page builders:
It's hard to beat Unbounce's interface.
The intuitive design may remind you of Photoshop, and that's a good thing. Tools are easy to find and use, advanced settings are simple to apply, and the amount of editing options available to you encourages full customization of your landing pages.
Leadpages
Cost:
Plans starting at $25/month
Backed by over 160 free templates, an easy-to-use editor, and quality analytics, Leadpages is a well rounded builder for any affiliate marketer.
Many of those free templates that Leadpages offers have been pre-tested, giving you immediate knowledge on which types of pages work better than others before having to do any testing of your own.
Leadpages also has one of the cheaper base package costs that you'll find with any landing page builder. The only caveat is that there are several features absent from that base package that you may deem necessary, like A/B testing and advanced customization options.
Why Choose it over other page builders:
They put a lot of focus on
integrating Facebook Ads with your landing pages
, so if Facebook ads are your primary traffic source for promoting offers, Leadpages could be the best option for you.
The Page Tracking Tab allows you to customize your Facebook pixel, and there's even a pre-fill Facebook ad feature. This means Leadpages will automatically generate you Facebook ads by pulling copy from your Landing page, which can save time and allow you to test different ads at a quicker pace.
Instapage
Cost:
Plans starting at $99/month
Instapage specializes in two major things: Speed and customer support.
Firstly, their primary focus is on helping you make landing pages as quickly as possible without sacrificing quality. This is accomplished by offering you over 200 customizable templates in combination with Instablocks – a feature that allows you to build pages faster by using customized branding blocks that you can customize, save, and re-use.
Instapage is also one of the very page builders that's built to work with Google marketing initiatives. Both Google Analytics and AdWords can be integrated with Instapage's landing pages, which creates a fluid relationship between your traffic source and your landing page creatives if you're using search traffic to promote offers
Advanced analytics and A/B testing functions round out their list of useful features.
Why choose it over other page builders:
Instapage's customer support has overwhelmingly positive reviews.
If you're a beginner affiliate and think you could benefit from ongoing communication with someone who knows the page builder inside and out, it might be worth paying the higher monthly cost for quality support.
Thrive Architect
Cost:
$67 for a license
On its own, WordPress isn't a great option for creating affiliate marketing landing pages because it's meant for more complex multiple page websites. However, installing the Thrive Architect WordPress plugin changes that dramatically.
Thrive's full toolbox offers a multitude of features that will make it feel like you're using one of the traditional page builders that we've discussed above. These include:
Drag-and-drop options
Headline optimization
A/B testing capabilities
Widget integration
The plugin also offers what it calls 'conversion focused elements'. These are pre-built plugins that include infinitely customizable buttons, testimonials, countdown timers, and various lead generation forms that can greatly improve your landing page's appeal and conversions.
Why choose it over other page builders:
The number one benefit of using the Thrive plugin on WordPress rather than one of the traditional landing page builders is the fact that you'll have access to expansive SEO tools and plugins. This is obviously convenient to have if you're trying to improve your site or page's search engine ranking to obtain organize search traffic.
Lander
Cost:
Plans starting at $16/month
Lander offers a little but of everything in regard to its features. This includes over 100 page templates, dynamic text, and a well designed editor.
One major benefit of using Lander is the ability to fully customize the code of every landing page template that they offer. If you don't have coding/HTML experience this may not appeal to you, but if you're the type of affiliate who puts a lot of emphasis on smaller details, then you might appreciate that Lander gives you the control.
If you use a Facebook page or multiple Facebook pages as part of your affiliate marketing strategy, Lander has the ability to integrate them with the pages you make on its builder. This is quickly done in 4 steps through their Facebook page tab, and it won't require you to have to have any coding knowledge or use any additional apps.
Why choose it over other page builders:
Lander is probably the best landing page builder available if you're on a tight budget but still want something that's going to produce quality landing pages.
Their basic package will only cost you $16 a month if you're billed annually, and that includes A/B testing, something a lot of basic packages on other builders don't offer.
Conclusion
What you're looking for in a landing page builder will be different from what other affiliates desire. Try to figure out what it is YOU want.
Decide what features are most important to you, and factor in the traffic sources you use, your experience level, and the type of landing page you're envisioning in your head. Knowing what you're looking for will it make it easier to decide which of the five options we've presented in this post best suit what you need your landing page builder to do for you.
Do you have a suggestion for a great landing page builder that we didn't mention above? Let us know in the comments below.
Last edited by a moderator: